Nigeria's representative to the Miss Universe pageant, Stephanie Agbasi is currently in Las Vegas preparing for the prestigious competition but if her choice of attire for the National Costume Show is anything to go by, Stephanie might as well start packing her bags.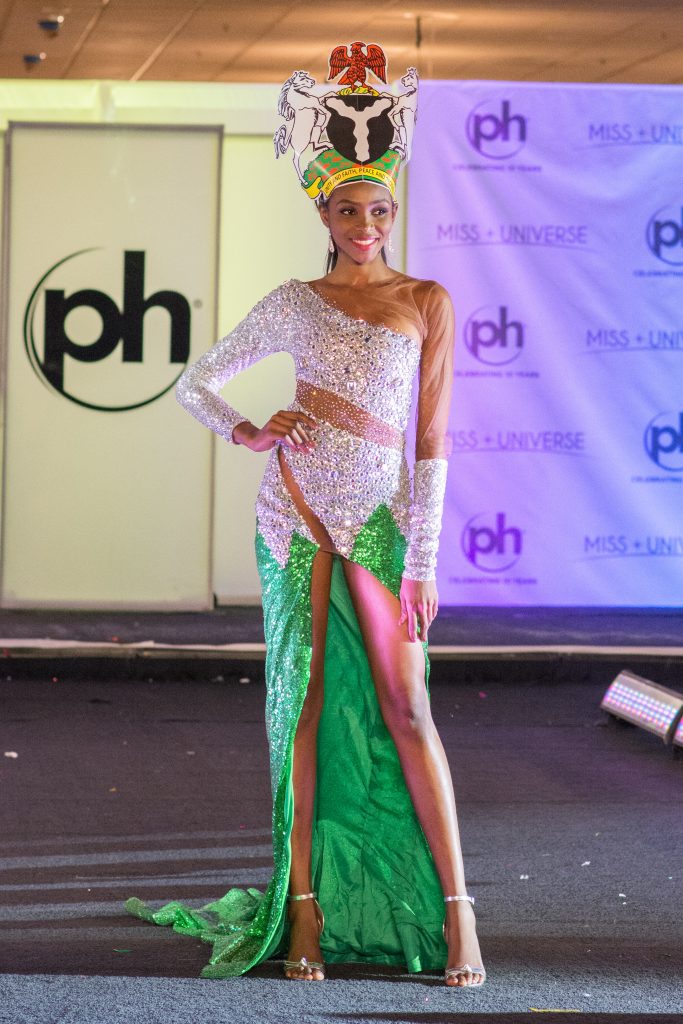 A huge part of the judging process, The National Costume Show is aimed at getting all the contestants to showcase authentic costumes that best represents the culture of their home country. To this event, Stephanie wore a floor length glittery dinner gown that was cut off in the front region.
If that dress was supposed to create an element of shock, then it worked, but at the expense of the competition? Except for the fact that the dress was done in silver and green which tried to emulate our national flag – green, white green, it was neither authentic nor unique and did nothing in terms of depicting our culture and heritage as a country.
The frontal area of that dress was so short, her privates were in serious danger of being exposed. And with a slit that high someone should have tried ironing the lining of her dress. If it's good enough to be exposed, then it should at least look presentable, right?
Yes, Nigeria is a country with diverse cultures and traditions but what happened to the beautiful and regal costumes Edo princesses adorn? Or the double wrapper magnificently woven and intricately beaded blouses the Itsekiri people are known for? Or is it the uniquely styledAsooke and Bubaapparels the Yoruba people wear with pride that would not have made a better pick?
Any of our traditional wears with a little bit of tweaking here and there would have spoken volumes about who we are as a country and nation. That dress could have been made in Asooke and would have not only looked gorgeous but done so much more in the area of culture.
If asked, how would she explain her look? The dress was hardly made in the specific shades of our national flag and depicts absolutely nothing about who we are and what we stand for.
Sad as it is, the problem is not with Stephanie but her handlers. The sooner we begin to take ourselves seriously, the sooner the world will too.